Undoubtedly you have noticed the new generation of teenagers and thought  "we weren't that tall when we were young" and you would be right.   Over the past hundred years, the average height for a kiwi man has increased 10cm from 167.5cm  (5'4″) to 177.7cm (5'8″).
A casket is similar to a bed, one size usually accommodates most, though sometimes you need to upgrade from a single to a king single to get that extra length. Now you can do just that with the Archetype, Woodhill and Fernwood caskets, as we have added a new size that increases the length only.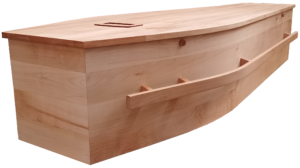 The Archetype has been lengthened to fit a 7-foot tall person and is available in either silver beech (tawhai) or pine timber.  The rail handles have been gently steamed to follow the smooth curve of the casket, and it is fitted with a natural wool mattress and pillow.

The Woodhill is an uncomplicated, modest pine casket finished with a classic subtle wax sheen with matching wooden handles, nameplate, and thumbscrews. This popular casket is now available to fit a person up to 2.1metre (7′) tall person with a shoulder-width up to 58cm (23″).

If you are looking for a more contemporary, or a cost-efficient personalisation option the Fernwood is perfect. Able to accommodate a 1.8m (6'6″) person, shoulder width up to 55cm (22″). The casket comes with a needled wool mattress and pillow finished with a silver fern adornment on the lid.  The adornment can be swapped out for another shape to suit your loved one and the kids (young and old) to decorate them.
We have introduced a shorter size to the Wayfarer range of caskets. Retaining its elegantly curved sides this casket is available plain or with images printed with natural inks.  It gently accommodates someone shorter than 1.7cm (5'7″). The Wayfarer comes with leather fixtures, a natural wool mattress and pillow.